We are Founding Members of INVESCAT INTERNACIONAL, a company formed by the Finques Company real estate agency and Amat Finques which facilitates and advises on the possibility of investments in real estate operations abroad.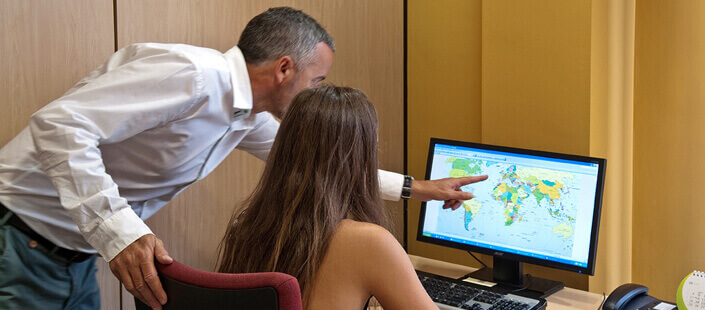 In a world that is increasingly delocalised and global, we have been aware for some time that any business activity has to select the best resources and materials wherever they are found. For this reason we have created a stable structure with which, on the basis of studies, in-depth knowledge and experience of certain markets of emerging countries, we enable our clients to obtain in a secure manner yields which are no longer habitually found in the market of our part of the world.
We have focussed primarily on the real estate market in Bulgaria. During the last few years we have participated and operated in more than 30 investments which represent a total investment of over 20 million euros.
We have a permanent office in the centre of the capital, Sofia, which enables us to maintain constant in-situ monitoring of all the investments abroad. There we have a human team of highly qualified professionals with long experience in that market and the necessary legal, fiscal and economic knowledge to advise you in a secure and transparent manner.
We have also carried out investments abroad in other countries like Portugal and Brazil.
If you are interested in the service of investments abroad offered to you by the Finques Company real estate agency, please contact directly any of our offices and we will provide you with all types of information on the economic and political situations of the countries in question, evolution of investments, market studies, risk analysis, yield forecasts and so on. We have a real estate office in Girona, a real estate office in Llançà, a real estate office in Figueres and a real estate office in Roses.
---
FAQ's
Because we have in-depth knowledge of the evolution of the real estate market in the zones where we operate, and we follow it very carefully and in close detail, documenting it by means of the reports and internal statistical that we draw up every quarter on the supply, demand and operations carried out. All of this enables us to advise our clients on:
Valuation of the market price of the building. On the basis of our knowledge of the area, we draw up, with no obligation, a study of the best sale or rental price, justified with the market prices of that same zone or locality.
Market studies. When it comes to placing on sale a development of buildings or a group of homes, we draw up a detailed study of all the existing supply in the area, along with the profile of the possible buyer who may be interested in the development. We also set out a number of conclusions on prices and viability of the promotion.