Maintenance of apartments and second-residence houses
At the Finques Company real estate agency we are qualified and ready to take charge of the maintenance of your second residence, especially during your absences.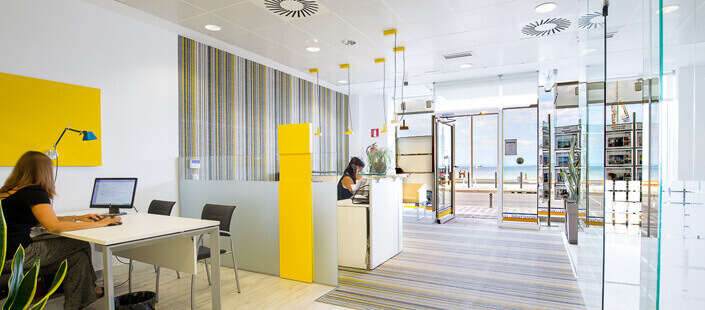 For the Finques Company real estate agency, our aim is for you not to have to worry about anything during your absence: we will take care of absolutely everything. The constant maintenance of your second residence will prevent squatters from occupying it and ensure that it is ready for you to enjoy it when you need it.
Our services include:

- Periodical visits to your second-residence apartment or house to verify its maintenance and conservation: it is important to review the maintenance of boilers, electrical installations, etc.

- Management with suppliers for the execution of repair and maintenance tasks of your second-residence apartment or house: in cases where management is required, we will take charge of everything from the contact with the company that will carry out the repair or maintenance task to the inspection and payment of the work carried out.

- Settlement and payments of the local and non-residents' taxes of your second-residence apartment or house, handling all the necessary formalities for you to keep your tax obligations up to date.

- Formalities with supply firms of the utilities of electricity, water, gas, etc. of your second-residence apartment or house: you won't have to worry about whether the electricity bill has been paid, if the meter has to be inspected, if the boiler has to be filled, and so on.

- Providing cleaning services, garden maintenance, etc.: your second-residence apartment or house will be ready for when you want to use it.

If you are interested in the service of Maintenance of Second-Residence Apartments and Second-Residence Houses which the Finques Company real estate agency offers you, you can contact directly any of our offices to request with no obligation the informative dossier of the service and its cost, consisting in a fixed annual fee. We have a real estate office in Girona, a real estate office in Llançà, a real estate office in Figueres and a real estate office in Roses.
---
FAQ's
Because we have in-depth knowledge of the evolution of the real estate market in the zones where we operate, and we follow it very carefully and in close detail, documenting it by means of the reports and internal statistical that we draw up every quarter on the supply, demand and operations carried out. All of this enables us to advise our clients on:
Valuation of the market price of the building. On the basis of our knowledge of the area, we draw up, with no obligation, a study of the best sale or rental price, justified with the market prices of that same zone or locality.
Market studies. When it comes to placing on sale a development of buildings or a group of homes, we draw up a detailed study of all the existing supply in the area, along with the profile of the possible buyer who may be interested in the development. We also set out a number of conclusions on prices and viability of the promotion.
During your absence in winter:
please, clean regularly the drains of your terraces and balconies before it rains.
switch off the electric meter or unplug all the electrical devices (household appliances)
Close the water stopcock. Check that all taps are properly closed and not dripping.
Do not leave light objects or furniture in the garden or on the terrace as they could fly off in the wind.
Precautions to be taken for a good maintenance:
Have the gas installation properly checked (specially the rubber tubes). Be careful with scams as there are false gas reviewers who introduce themselves as employees of an official company.
If you have a bank account for the second residence expenses, provide it with enough money to cover he annual expenses and taxes (electricity, water, Town Hall taxes…).
You should have a building and contents insurance for your property. If you already contracted one long time ago, review its coverage and update the values.
During your stays in the apartment or house:
-Make sure you never leave the keys put in the lock on the back side of the entrance door (if there is a gust of wind, you may be locked outside, even if you have another copy of the key).
-Make sure you leave all the doors and windows properly closed before leaving the property, and also before going to bed at night.